THE EDGE MAP™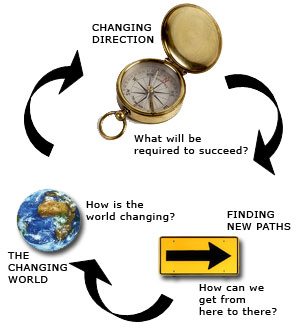 The Edge Map™
Where are we headed?
The Edge Map provides a conceptual map of the perspective we have been developing. It highlights the three key pillars of this perspective. We begin with THE CHANGING WORLD which describes how the world around us is changing, with a particular focus on the deep dynamics shaping the surface events that distract us on a daily basis.
The second pillar, CHANGING DIRECTIONS, focuses on a more prescriptive view mapping out the direction we will need to pursue to succeed in this changing world.
The third pillar, FINDING NEW PATHS, recognizes that there is a considerable distance between where we are today and where we need to be. It provides insight on the pragmatic migration paths that will help us to evolve more quickly and effectively.
Any of these three pillars alone has very limited value – it is only by exploring the ensemble of these pillars that we can begin to both make sense of, and make progress in, the Big Shift playing out around us.
If you click on the map icon, it will take you to a much more detailed map of the key themes and topics that we have been developing with links to key resource materials. We hope that you will find it a useful way to orient yourself as you explore our perspective. Over time, we intend to add more and more links to the writings of others that have been particularly influential in the development of our perspective.
THE POWER OF PULL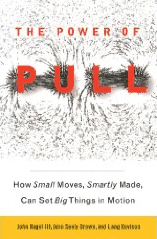 The Power of Pull: How Small Moves, Smartly Made, Can Set Big Things in Motion
by John Hagel III, John Seely Brown,
and Lang Davison

We have prepared a series of booklets to introduce you to the themes in the book:
Booklet 1: Pursuing Passion
Booklet 2: Shaping Serendipity
Booklet 3: Talent: The Dilbert Paradox
Booklet 4: From Passion to Potential
Booklet 5: Three Levels of Pull
Booklet 6: Passion versus Obsession
Sign up for our newsletter, and get instant access to the booklets >>
- - - - -
RECENT PUBLICATIONS
Social software for business performance: The missing link in social software: Measurable business performance improvements
Cloud computing: Storms on the horizon
THE BIG SHIFT INDEX™
Previously, the Shift Index 2009™ highlighted a core performance challenge that has been playing out for decades: return on assets for U.S. companies has steadily fallen to almost one quarter of 1965 levels at the same time that we have seen continued, albeit much more modest, improvements in labor productivity. We also released an industry-specific version (PDF) of The Shift Index, which applies these performance-challenge data to nine key industry sectors.
FROM the BLOGs
(c) 2005-2011 John Hagel III and John Seely Brown. All Rights Reserved